With the HEA Pro Tip it allows you to dial the pressure right down to as low as 800 psi, with the optimum pressure zone being between 1,000 – 1,500 psi, when spraying standard acrylic interior/exterior paints. So say goodbye to overspray and work cleaner and more efficiently.
For the first time, it is now possible to use a high pressure airless sprayer, with a newly designed spray tip, to spray at less than half the pressure than would normally be required.
It's now easy to achieve a perfect result with maximum control, using less pressure and less material.
How does it work?
The new patented HEA tip technology starts with a Pre-Tip, which is positioned in front of the actual atomisation tip (Finish-Tip). This Pre-Tip atomises the material being sprayed at the same delivery volume and working speed found in traditional airless devices. The structure of the tip creates a very soft, feathered spray pattern. The result is better coverage of overlapping strokes, less paint build-up at the start and end of each pass and an overall better surface quality. This makes the HEA tips particularly easy to use, saves on material and ensures a perfect result.
When using a tip from the HEA Pro range you get:
Less Overspray
Reduced pressure leads to:
A softer and more controllable spray pattern
Up to 55% less overspray
Maximum Control
The system is now much easier for beginners to handle due to a lower particle velocity and slightly larger spray droplets
Effortless Spraying
Lower pressure means minimal gun recoil and lighter trigger pull
Longer Life
Lower pressure means less wear and tear on the system and its components
Application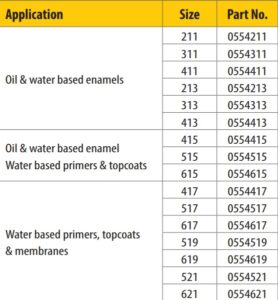 Each HEA Pro Tip includes a gun filter and double seal that is matched to the selected tip size and remember it is always best to check what your paint recommends as well as what your Paint Sprayer is rated for, when choosing any tip
Please Note: Wagner Tips fit Wagner Tip Guns. They will not fit Graco Gun unless you have/are using a Wagner Tip Guard